TAKE A WALK DOWN MEMORY LANE ON YOUR NEXT VISIT TO CADBURY WORLD
Please note that this zone may be closed when you visit while we work on something exciting. We are sorry for any inconvenience this may cause. 
With nearly 2,000 items of Cadbury memorabilia dating as far back as the 1800s on display.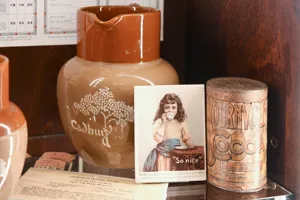 What items of Cadbury memorabilia do you remember?
'The Gill Cocks Collection' was unveiled by Gill Cocks herself & Duncan Cadbury, Trustee and former Chairman of the Bournville Village Trust. Gill kindly gifted her extensive collection to the Cadbury Archives in Bournville.
Cadbury World now hosts a replica of Gill's living room, which serves as part of the exhibition and displays more than 400 items of the extensive collection. Key pieces of the collection include traditional wooden chocolate boxes, framed advertisements dating back to 1890s and royal souvenir tins and boxes, all of which are now on show to the public. Additional cabinets can also be found outside of the living room display, which showcase a further 1,200 items. Vintage Cadbury mugs, biscuit tins, seasonal items, glass milk bottles, jigsaws, and drinking chocolate tins are available for visitors to view across the display.
Book your tickets to Cadbury World online & save
Book Now