Weekdays from 27th - 30th December
Various showtimes from 12:00 - 4:00pm
Included with your Cadbury World entry ticket
Cadbury World, Entertainment Marquee
Weekdays from 27th - 30th December.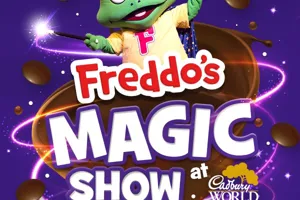 Freddo's Magic Show
Abracadabra! Time to shout those famous magic words as you prepare to be astounded by our master magician - Freddo! 
Watch in amazement as Freddo makes one thing disappear into thin air and another reappear from no where, he may even magically bring something to life! 
The hottest magic show in town with the coolest Frog in showbiz! 
Show times: 
12:00 pm
12:30 pm
1:00 pm
1:30 pm
2:00 pm
2:30 pm
3:00 pm
4:00 pm