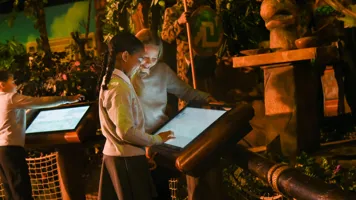 Dive into our chocolatey world of learning!
With over 30 years' experience and more than 2,000 school groups attending each year, Cadbury World offers a unique experience that gives fascinating insight into the rich heritage of the nation's favourite chocolate brand.
Enquire about a School visit and our education team will contact you within 5 working days to confirm your booking. If you would like an educational talk, we recommend booking at least 3 months in advance due to the popularity of our sessions.
In terms of payment we ask that you confirm your final figures at least 15 days before your visit using the link in your booking confirmation email. We will then invoice your group, which can be paid by BACs or by card. Once the invoice has been raised, your booking is non-refundable, non-exchangeable, and non-transferable. We ask that payment be made within 14 days of receipt of invoice
YOUR SAMPLE ITINERARY
Arrival on your coach to Cadbury World, with free coach parking and admission for you driver.
Enjoy the Cadbury World main attraction and journey through our chocolatey zones, lasting around 1.5hrs. Support this with some of our

 

free resources

(Please be at reception 10 minutes before your admission time to the main attraction).

We have several covered marquees available for schools to use for their lunches. These are not bookable and are first-come first-served.

Expand your knowledge with a 1 hour interactive topic talk by member of our dedicated education team. Visit the Primary or Secondary pages for further information about the talks available.

Take the 4D Chocolate Adventure cinema experience, complete with motion seats!
RISK ASSESSMENT
We offer 2 complimentary teacher preview tickets for the completion of risk assessments. Teacher preview visits are available to schools who have booked a visit with us and must be pre-booked.
Contact cadburyworldeducation@merlinentertainments.biz with your preferred date and time to arrange your tickets. For more information, take a look at our Risk Assessment for Schools.
WHAT HAPPENS ONCE I'VE BOOKED MY SCHOOL TRIP?
You will receive an automatic e-ticket confirmation by email with the details of your booking. Please confirm your visit at least 15 days prior to your visit using the link in your confirmation email.
In terms of payment, please pay in advance by BACS or card.
NOTES FOR GUIDANCE FOR VISITING CADBURY WORLD
Please click the link below to view the Notes for Guidance document.
Download Notes for Guidance