General Questions
Ticket prices vary depending on your chosen entry date and time, and also which ticket package or offer you purchase. Anyone aged 3 years and older require a paid ticket, but carers and children under 3 are free! If you would like some more information regarding the documentation you need to provide to validate a carer ticket, you find this here.
The prices of the time slots relate to popularity of selection. For instance, the cheaper times are generally selected by guests less often.
We offer a discounted price at certain times in an attempt to encourage more people to select this time slot, in order to maintain a steady flow throughout the whole day.
No matter what time slot you select, all guests receive the same fantastic experience.
From the 12th of September our Purple Planet zone will be closed. Advertising Avenue (including the gorilla set) will also be partly closed while we work on something exciting. All our other chocolatey zones will be open as normal. We apologise for any inconvenience this may cause.
You can check out our latest offers here.
In total, most of our visitors spend around 3 – 4 hours onsite with the main Cadbury World exhibit taking around 1.5 – 2 hours; this varies slightly during weekends and school holidays when we offer free family entertainment in the Cadbury World marquee.
You can find our entertainment schedule here.
We are delighted to offer a variety of handmade, personalised Cadbury World treats available for pre-order, for collection on the day of your visit. Purchase these on our website and pick them up from the attraction on the day of your visit.  
On adding tickets for Cadbury World to your basket you will receive a pop-up to add your chocolate item to your order. Please note, you will need to allow at least 24 hours before collection.
Cadbury World is a visitor centre - because of food regulations we can't open up our whole factory to the public. 
Please note that a visit to Cadbury World is not a tour of the Cadbury factory; you will discover the history, the making and the magic of Cadbury confectionery through a variety of chocolatey zones. 
No, you walk around Cadbury World at your own pace, starting at the beginning, and ending at the end! There are plenty of staff along the way to lend a hand or answer any questions you might have.
Unfortunately we do not have the facilities to hold or store any type of baggage or packed lunches. You will have to keep them with you as you tour Cadbury World or keep your items on the coach if permitted.
Yes - cameras and camcorders can be used on site, except in the 4D Chocolate Adventure and on the Cadabra ride.
There are lots of hotels in the Birmingham area ranging from budget hotels to 5 star accommodation. Visit our hotels page or www.visitbirmingham.com for hotel information.
Yes, Cadbury World is a self-guided tour that you can complete at your own pace.
You'll see the Cadbury World Demonstration staff showing off their chocolate making skills in the Chocolate Making zone. Plus, try your hand at doodling and tempering chocolate in our Have A Go zone!
No, Cadbury World is a visitor centre. We do have one ride on site – Cadabra – which takes you on a gentle journey through a chocolate wonderland and is suitable for all ages and our 4D Chocolate Adventure.
You are more than welcome to bring a picnic to enjoy at Cadbury World. There is plenty of picnic style seating outdoors to enjoy your food and drink. This is available on a first come first served basis.
There's a wide choice of fun and interesting attractions in Birmingham city centre, including the National Sea Life Centre, numerous art galleries, museums, theatres, great shopping and much more. Plus we're only an hour from Stratford-Upon-Avon and Warwick. For more information about Birmingham and the Heart of England, visit www.visitbirmingham.com.
Valid student ID required on the day of your visit to Cadbury World: NUS card, in-date University/College ID or International Student Card (UNiDAYS or any other form of identification will not be accepted). For 16-18 year olds - valid school / college ID card required. If you do not have a valid ID you will be asked to pay the difference of an adult ticket.
None of the chocolate samples we give out are nut-based, such as Fruit & Nut bars, but if you find that they are unsuitable for any reason, they can be exchanged for alternative products.

Part way through the experience, we also hand out one cup of plain melted Dairy Milk chocolate, to which you are free to add your choice of treat from a selection of sweets – again, none of them nut-based. The sweets selection changes daily, but can be things such as popping candy, biscuits, Jelly Babies, etc. Allergy information about the chocolate and sweets is always displayed on a board to the left of the area where visitors receive their melted chocolate sample, so if you wanted to double check the contents, we would encourage you to check this - or to check with the Chocolatiers who are on hand in this area.

We do not monitor what other visitors bring into Cadbury World themselves and so cannot say other visitors will not be carrying or eating nuts. Cadbury World also shares some of its buildings with the manufacturing factory in Bournville who do produce some nut-based products, so we cannot guarantee that our buildings are completely free from airborne allergens.
All guests receive complimentary bars of chocolate on entry to Cadbury World and for anyone with dietary requirements, these can be exchanged for alternative products. In our Chocolate Making zone there is a tasting experience, here we can offer dairy free toppings in place of the warm liquid chocolate sample such as jelly babies and marshmallows.
Directions and Parking
4 miles south of Birmingham city centre. Visit www.visitbirmingham.com to find hotels, and attractions in the city.
Birmingham's Clean Air Zone covers all the roads within the A4540 Middleway Ring Road, but not the Middleway itself, check out the map here. It operates 24 hours a day, 365 days a year. The charges will be applied daily. A non-compliant vehicle driving in the Zone is required to pay once for the day, then may drive in the area without limit on that day. Find out if your vehicle will be charged here. Information is available on charges and how to pay at www.brumbreathes.co.uk.
Parking at Cadbury World is free of charge and we have plenty of spaces available for guests to use.
Facilities and Access for All
Guests who have the following documentation are entitled to one free carer ticket. However, the guest with the disability and any further members of their party will pay full price. Without supporting documentation you will be required to pay the full price general admission. You will be asked to show your documentation to a member of our reception team on arrival.
Please show the relevant paperwork as well as suitable photo ID of the named recipient at reception.
1. Disability Living Allowance or Attendance Allowance award letter (dated within the last 2 years), or Scottish Disability Payment and Child Disability Payment for visitors from Scotland. 
2. Personal Independence Payment letter (dated within the last 2 years).
3. A current and valid Blue Badge.
4. Letter from GP or consultant (dated within the last 2 years) confirming the need for a full time carer. This does not need to be a letter of diagnosis.
5. A Nimbus Access card with the +1 symbol. The photo on the card must be of the guest who requires a free carer.
Unfortunately, we will not be able to issue carers tickets without seeing the above documentation as well as the recipients ID . For guests who require more than one carer we ask that you bring documentation to support this.
For Guests who may find it difficult, or cannot stand for long periods of time either because of physical disability or learning/emotional impairment we issue wristbands, so that staff can offer additional assistance. We are happy to arrange a wristband upon presentation of:
A letter from your GP or Consultant on headed paper (dated within the last 2 years) which clearly states that you are unable to queue and why (we do not need a letter of diagnosis).
A Personal Independence Payment (PIP) letter (dated within the last 2 years) showing that you receive the enhanced mobility component.
A Disability Living Allowance or Attendance Allowance (DLA) award letter (dated within the last 2 years) showing that you receive the higher rate mobility component. This must be presented alongside valid photographic ID for the named recipient.
A Nimbus card with any of the below symbols. The photo on the card must be of the guest who requires a wristband.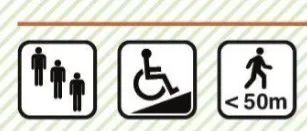 Our Visitor Services team will do everything possible to ensure that your visit is as comfortable as possible. However, we are not in a position to assess an individual's abilities so we must insist that the letter from a medical professional states that you are unable to queue and why, rather than simply confirming your condition. This letter will allow a maximum of 4 visitors to gain priority access to the ride or the 4D Chocolate Adventure.
There are baby changing facilities integrated within all toilet facilities across the attraction. We have a designated baby feeding room which is located in reception to provide a calm and discreet area to feed babies with all the facilities required. The baby feeding room facilities include a baby changing unit with disposable hygiene paper sheeting, sink unit, breast feeding armchairs and toddler chairs.
There is pushchair access throughout Cadbury World.
Yes, you can read more about our access facilities here.
If you need a wheelchair, these can be borrowed on the day of visit on a first come first served basis from our main reception, subject to availability. There is regular seating throughout the main attraction. A first aid room is also available.
We only allow assistance dogs into Cadbury World. They are allowed throughout the attraction except in production areas, where we offer an assistance dog sitting service with a member of our staff.
Groups
A group at Cadbury World is 15 or more people.
Yes – there is adequate free parking on site.
Cadbury World has a main entrance where people can arrange to meet up. Or you might want to meet in the café, which leads off the main reception.
Education
Useful information covering many areas of the curriculum can be found here and also on www.cadbury.co.uk.
School groups are welcome to bring packed lunches to eat during their visit.
No, but for every 8 students a member of school staff goes free.
We offer educational sessions for groups of 15 - 100 students.
For every 8 students a member of school staff goes free.