A CROWN FIT FOR A KING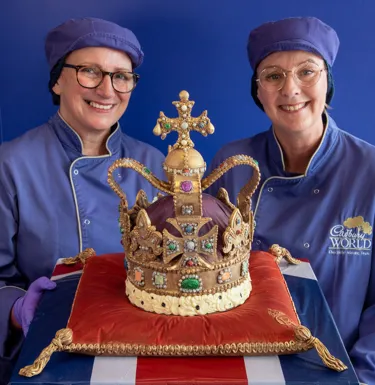 Cadbury World, has unveiled a royally delectable chocolate creation, ahead of the Coronation of King Charles III.
The creation, standing at 45cm tall, is an edible replica of St Edward's Crown, the crown that will be used for King Charles' Coronation on Saturday, May 6th.
The masterpiece was created by chocolatiers Dawn Jenks and Donna Oluban, who handcrafted the delicious sculpture over two days using white and milk chocolate as well as edible lustre.
The chocolatiers hand-piped and decorated two arches as well as four intricate crosses-pattée and fleurs-de-lis, to ensure the replica looked as similar to the real crown as possible.
In order to create the iconic ermine band, the chocolatiers used molten white chocolate. The 3D velvet cap within the crown, and the cushion the crown sits on, were created by moulding melted chocolate within a plastic bag before delicately dusting with purple and red food powder to give it that royal look!