CADBURY WORLD FUNDRAISING RAISES £41K ACROSS 19 CHARITIES
Tuesday 31st January 2023
PRESS RELEASE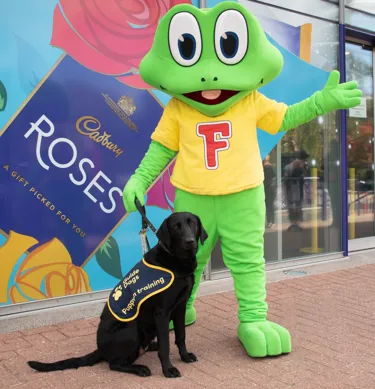 Cadbury World has announced it has donated £41,500 to be shared between 19 charities, thanks to generous contributions from visitors, staff and The Cadbury Foundation throughout 2022.
Midlands-based charities, including Guide Dogs in Birmingham, Birmingham Children's Hospital, Cannock-based charity Special Needs Adventure Playground (SNAP) and national charities Make a Wish and Royal British Legion, are just five of the 19 charities which received support and a proportion of the figure from the chocolatey attraction.
Visitors to Cadbury World raised £10,700 of the substantial amount by dropping donations in the Aztec Jungle pond, donation buckets and charity stands at the attraction's entrance. Staff members at Cadbury World also completed 37 charity events throughout the year including team cake sales, sponsored events and raffles, which generated £8,300 for the charities.
The Cadbury Foundation, which was set up in 1935 in recognition of Richard and George Cadbury and their investment into the welfare of their employees and the local community, also contributed a significant sum of £17,500 to the total. As part of its 'Your Charity Your Choice' scheme, The Cadbury Foundation made a £5,000 donation to the attraction in aid of Guide Dogs in Birmingham, which is funding training for guide dog, Rosie. The foundation also recognised the attraction's fundraising efforts and matched the total amount raised through its Cash Match initiative, which doubled the sum of money for the charities.
Each year, employees at Cadbury World select charities and projects close to their hearts and support them throughout the year through encouraging visitor contributions, staff fundraising events and providing on-site space at the attraction for a number of charities to raise awareness and donations.