CIRCUS SPOOKTACULAR
Monday 12th September 2022
PRESS RELEASE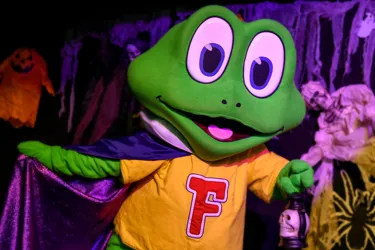 ROLL UP! ROLL UP! CADBURY WORLD ANNOUNCES CIRCUS SPOOKTACULAR STAGE SHOW FOR HALLOWEEN
There's plenty of seasonal fun on offer at Cadbury World this October, as families can experience a brand-new stage show and enjoy a day choc-full of tricks and treats.
From Saturday 15th – Sunday 30th October, visitors are invited to roll up to the spookiest show in town and be entertained by Freddo the Frog at his Circus Spooktacular stage show. Guests will be astounded by the Great Fredeedo's spookiest spells, howling with laughter at Fangtastic Freddo's petrifying puns and amazed by Daredevil Freddo's frightfully fun tricks.
What's more, ghouls old and young are encouraged to dress to impress for the daily fancy dress competition, where judges will be handing out prizes to the most haunting visitors.
Elsewhere in the attraction, the self-guided Cadbury World tour is packed full of fang-tastic fun and adventure, with an assortment of chocolatey zones to explore.
Guests can catch the chocolatiers in action and enjoy a terrifyingly-tasty sample in the Chocolate Making zone, before practicing their piping skills by drawing their name and petrifying pictures using liquid chocolate in the Have A Go zone. 
Daring visitors can also explore Cadbury's history through the Aztec Jungle and Bull Street, and take a magical journey through the chocolatey land of Beanville on the Cadabra ride, before walking through time in Advertising Avenue to come face-to-face with the famous drumming gorilla. 
Families can head to the 4D Chocolate Adventure zone to experience the sensation of riding the Crunchie Rollercoaster and diving into a pot of liquid Cadbury Dairy Milk, in an unmissable cinematic experience with motion seats. 
What's more, there will be a range of hauntingly good treats in The Cadbury Shop, including the unmissable exclusive hand-crafted chocolate pumpkins. 
Diane Mitchell, marketing manager at Cadbury World, said: "Cadbury World is filled with entertainment for the whole family and provides a great day out filled with frightful fun during October half term. 
"From Freddo the Frog's live stage shows with a spooky Halloween twist to interactive activities in our chocolatey zones, a trip to Cadbury World during half term is not to be missed."
All entertainment is included with entry tickets to Cadbury World.