BOURNVILLE LOCAL GETS FAVOURITE SUMMER MEMORY CREATED OUT OF CHOCOLATE FOLLOWING NATIONWIDE COMPETITION
Thursday 20th July 2023
PRESS RELEASE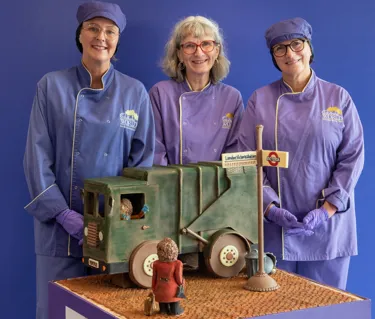 Fiona Ritchie Walker, 66, entered the competition launched by Cadbury World last month, which, for the first time ever, called for visitors to submit their favourite holiday memory, to be in with a chance of seeing that special memory come to life in chocolate form.
After a whole host of entries, Fiona's submission took top spot and the showstopper has now been created out of chocolate by Cadbury World chocolatiers, Dawn Jenks and Donna Oluben.
In her submission, Fiona reminisced about the summer of 1978: "I saved up from my first job to treat my mum to a weekend in London. I set off early morning to meet her from an overnight bus from Scotland, but I went to the wrong Victoria Station!
"Sat in tears outside Victoria Tube Station, I heard a voice asking me what was wrong. I looked up to see a man emptying bins into a lorry and I explained my predicament.
"Without hesitation, the man told me not to worry, they were heading to Victoria Coach Station and to hop in! I will never forget my mums face when I waved at her from the bin lorry and ran to meet her. It was the start of a great weekend and a very different holiday memory to tell my kids and grandchildren!"
But Fiona's connection to Cadbury World runs deeper than winning the creation competition; "My grandparents actually both used to work in the Cadbury factory! My grandfather, William Walker, always told us he was taught the art of chocolate making by George Cadbury himself before he left to serve in the First World War. After the war, he returned to the factory and stayed there for the rest of his working life.
"My grandmother also worked at the factory, where she would decorate the chocolates by hand. My dad moved to Scotland, so I grew up there, but I used to love coming to Bournville during the summer holidays, though I never thought I'd live here until recently."
Now Fiona's memory has come to life in the form of the sweet treat. Talented chocolatiers, took three days to create the masterpiece, resulting in a creation, like no other they have crafted before. The scene is made up of, three intricately decorated characters, two of which take residence in a 40cm tall bus.
Chocolatier, Dawn Jenks, said: "We loved hearing about Fiona's favourite summer holiday memory, and we were so excited to recreate it out of chocolate. We use a variety of household items, including food packaging when crafting moulds for our creations.
"For example, we filled Cadbury Chocolate Fingers packaging with molten chocolate to create the bin lorry's grille and filled yoghurt pot moulds to make the foundations of the characters.
"We then hand piped features on to them with edible food colouring and coloured cocoa butter, and moulded white chocolate into the shape of a sphere to form the characters heads.
'It was great fun bringing Fiona's favourite summer memory to life, we hope she loves it!"
The masterpiece is on display in Cadbury World's Chocolate Making zone throughout the summer holidays.