WHAT CAME FIRST, THE CHICK OR THE CHOC?
Sunday 9th April 2023
PRESS RELEASE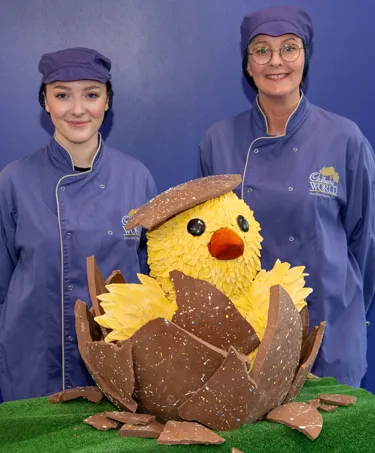 Cadbury World, has unveiled an egg-ceptional chocolate creation ahead of the Easter weekend, featuring an adorable chick hatching from a giant chocolate egg.
The creation, standing at a staggering 70cm tall, took chocolatiers at Cadbury World in Birmingham four days to bring to life.
The masterpiece was created by the talented Dawn Jenks, Donna Oluban and Phoebe Snow, who worked with solid milk chocolate to delicately hand craft the chick and its egg.
Intricate white chocolate feathers were created individually by hand before being secured to the chick with melted white chocolate to create a stunning 3D effect, followed by a dusting of edible food colouring to give the chick a vibrant yellow colour.