Cadbury World are committed to creating a welcoming environment
We are delighted to be able to offer relaxed SEN Sessions for guests on selected dates and times.
The sessions are designed to be of benefit to visitors who prefer a quieter and calmer experience, such as those with autism or SEN needs. 
Upcoming sessions available on each of the following days at 9.30 or 9.40AM   
September 17th 
November 19th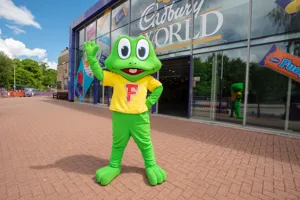 Relaxed SEN sessions will have reduced sound, an increase in lighting where necessary, removal of strong scents and fewer visitors to help reduce stress.
If you have booked a 9.30 or 9.40AM SEN Session, following your main tour head to the rear of the building to enjoy a 10 minute show in our entertainment marquee at 11.30AM . Or, if you have booked our 4.00PM slot on June 25th, you can enjoy the show before your main tour at 3.25PM. The shows are specially-adapted for those with sensory difficulties, the show will offer a more relaxed performance with a reduced capacity, house lights kept on throughout the show and a lower audio volume. 
We aim for the main attraction to be exclusive for our relaxed SEN session booked guests however, it may be that general visitors catch up with you. There will also be general visitors in other areas around the attraction such as the 4D Chocolate Adventure and Bournville Experience.
How to book
Bookings for these sessions must be made before 12pm on the day prior to the event at the latest.
Proof of disability will need to be provided. To reduce time when you arrive this can be sent via email in advance, at least 5 days before your visit. Failing that we ask that you head to reception on arrival to show your documentation to a member of our team.
Guests who have any of the below documentation are entitled to one free carer ticket. However, the guest with the disability and any further members of their party will pay full price.
Disability Living Allowance or Attendance Allowance award letter (dated within the last 12 months), or Scottish Disability Payment and Child Disability Payment for visitors from Scotland. 
Personal Independence Payment letter (dated within the last 12 months).
A current and valid Blue Badge.
Letter from GP or consultant (dated within the last 12 months) confirming the need for a full-time carer. This does not need to be a letter of diagnosis
For visitors who require more than one carer, we ask that you bring documentation to support this.
Find more information about access facilities