Key Stage 3 & 4
Bring your topic to life with our engaging curriculum-linked talk, presented in our themed education rooms by our dedicated team.
WHAT TO EXPECT FROM A GEOGRAPHY EDUCATION SESSION
Discover the global legacy of the Cadbury brand and our reach as a transnational company.
Discuss how Cadbury's is part of a larger company and the effect this has on international business.
Examine Cadbury's place within primary, secondary and tertiary industries.
Understand Cadbury's key markets and how Cadbury's is developing new products to reach bric and mint countries.
Explore the providence of some of our ingredients and how Cadbury's are supporting cocoa farmers as well as the Ghanaian rainforest through schemes such as cocoa life.
Compare the functions of the various Cadbury factories found in the uk and discuss the importance of location when choosing a factory location.
Recognise the importance of sustainability in industry and discover the methods in which Cadbury are improving their environmental footprint.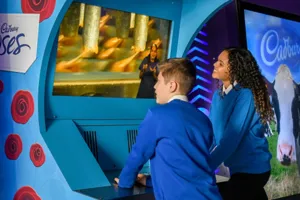 CURRICULUM LINKS
Click the link below for more information on the Geography Curriculum links.
CURRICULUM LINKS
How to book a school visit
Enquire about a School visit and our education team will contact you within 5 working days to confirm your booking. If you would like an educational session, we recommend booking at least 3 months in advance due to the popularity of our sessions.
MAKE A BOOKING ENQUIRY