Key Stage 4
Bring your topic to life with our engaging curriculum-linked talk, presented in our themed education rooms by our dedicated team.
WHAT TO EXPECT FROM AN IMEDIA EDUCATION SESSION
Discover how Cadbury utilises graphics and media in a range of different formats. Look at how we research and adapt to trends in the market to ensure that we are keeping up with consumer needs. Discuss practicalities of various advertising campaigns and how we need to adhere to Government legislations and our brand ethos when creating new media and campaigns.
View exclusive campaign planning boards; looking at marketing strategies in the UK and Worldwide. Explore how we have adapted to the ever-changing digital market and ensure that our products are visible on a wide variety of platforms. Delve into brand identity and how we ensure we stay relevant and respond to any upcoming trends we discover in the market in regards to both products and campaigns.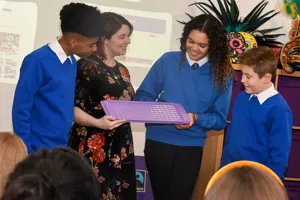 CURRICULUM LINKS
Click the link below for more information on the iMedia Curriculum Links.
CURRICULUM LINKS
How to book a school visit
Enquire about a School visit and our education team will contact you within 5 working days to confirm your booking. If you would like an educational session, we recommend booking at least 3 months in advance due to the popularity of our sessions.
MAKE A BOOKING ENQUIRY