Key Stage 4 & 5
Bring your topic to life with our engaging curriculum-linked talk, presented in our themed education rooms by our dedicated team.
WHAT TO EXPECT FROM A INVESTIGATING BUSINESS EDUCATION SESSION
Discuss business ownership, business activity and competitors, business aims and objectives, functional departments, and shareholders and stakeholder interest.
Take an in-depth look at our business as students discover how Cadburys became part of Mondelez International, discussing business ownership and how it affects the market.
Discuss Cadburys position within the UK and International market, how we remain relevant and unique in comparison to our competitors. Explore the range of business segments Mondelez covers and how we support our stakeholders and shareholders.
Gain an understanding of how we have collaborated with various companies and organisations to ensure ethical business practices and adapt our product to meet the changing requirements of both our consumers and governments.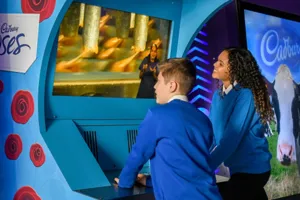 CURRICULUM LINKS
Click the link below for more information on the Investigating Business Curriculum Links.
CURRICULUM LINKS
How to book a school visit
Enquire about a School visit and our education team will contact you within 5 working days to confirm your booking. If you would like an educational session, we recommend booking at least 3 months in advance due to the popularity of our sessions.
MAKE A BOOKING ENQUIRY