Key Stage 4
Bring your topic to life with our engaging curriculum-linked talk, presented in our themed education rooms by our dedicated team.
WHAT TO EXPECT FROM A LEISURE AND TOURISM CUSTOMER SERVICE AND MARKETING EDUCATION SESSION
An overview of Cadbury World, with a focus on primary and secondary market research, the Marketing Mix and SWOT analysis. Discover how we entice visitors to our attraction with a wide range of media and the support of the wider company.
Look at how we evolve our branding in relation to trends, gain an insight into how we reach our target markets and discover how we monitor and measure the effectiveness of our marketing campaigns.
Look at how we meet different needs of customers and explore how we provide and measure Customer Service, and the benefits of this.
Discover the variety of roles available at Cadbury World and the unique skill set our staff display to ensure that we provide the highest possible level of service to our visitors. Explore the range of training available to our staff and how we use a variety of monitoring techniques to maintain the quality of our service year after year.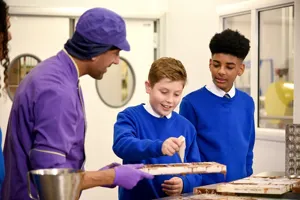 CURRICULUM LINKS
Click the link below for more information on the Leisure and Tourism Curriculum Links.
How to book a school visit
Enquire about a School visit and our education team will contact you within 5 working days to confirm your booking. If you would like an educational session, we recommend booking at least 3 months in advance due to the popularity of our sessions.
MAKE A BOOKING ENQUIRY