Key Stage 4 & 5
Bring your topic to life with our engaging curriculum-linked talk, presented in our themed education rooms by our dedicated team.
WHAT TO EXPECT FROM A MARKETING TALK
Take a detailed look at the marketing mix with a real-life insight into how Cadbury use the 4P's. Discuss historical Cadbury products that have moved through their product life cycle and the different extension strategies used.
In this talk, students will look at a variety of Cadbury's products, their competitors and their advertising campaigns, including the increasing importance of social media marketing and the power of social media as a marketing tool.
Gain an understanding of marketing planning tools such as primary and secondary along with qualitative and quantitative market research. We also show examples of how SWOT and PESTLE analyses are utilised by Cadbury with this curriculum-linked talk.
Students will gain an understanding of how Cadbury utilises marketing frameworks to inform their diverse marketing strategy over many different communication channels to different demographics.
Learn about the UK confectionery market, including primary and secondary market research, the marketing mix, product lifecycles and social media marketing.
This experience offers a unique perspective on the marketing elements that students would have encountered within the classroom and provides a real-life demonstration of a marketing strategy in action.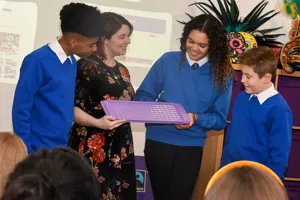 CURRICULUM LINKS
Click the link below for more information on the Business & Marketing Curriculum links.
CURRICULUM LINKS
How to book a school visit
Enquire about a School visit and our education team will contact you within 5 working days to confirm your booking. If you would like an educational session, we recommend booking at least 3 months in advance due to the popularity of our sessions.
MAKE A BOOKING ENQUIRY