Key Stage 4
Bring your topic to life with our engaging curriculum-linked talk, presented in our themed education rooms by our dedicated team.
WHAT TO EXPECT FROM A PHILOSOPHY AND ETHICS EDUCATION SESSION
Explore the rich history and strong beliefs of our founder, John Cadbury.
Discuss the importance of Quaker businesses and pioneers to the improvement of workers lives and the conditions in factories all over the country.
Look at how the Quaker ethos helped change the country with the development of new legislation. Plus, understand how Cadbury supported their staff and countrymen through the most difficult periods in British history.
Discover how Cadburys carry on that ethos in the modern day with schemes which have been developed to support staff not only in the UK but the World in succeeding together and creating a better future for everyone.
Look at the policies and procedures Cadburys has put in place to ensure employees feel safe, consumers feel valued and how we remain true to the beliefs our founders held throughout their time with the company.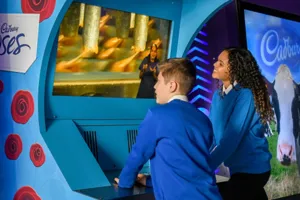 CURRICULUM LINKS
Click the link below for more information on the Philosophy and Ethics Curriculum Links.
CURRICULUM LINKS
How to book a school visit
Enquire about a School visit and our education team will contact you within 5 working days to confirm your booking. If you would like an educational session, we recommend booking at least 3 months in advance due to the popularity of our sessions.
MAKE A BOOKING ENQUIRY